Einbauanleitung Regensensor/Lichtsensor für Golf VI


Benötigte Werkzeuge:

T20 Torxschraubendreher

T25 Torxschraubendreher

Feiner Schlitzschraubendreher

Plastikkeil (VW spezialwerkzeug)

10mm Ringschlüssel (optional, falls man den Knieairbag ausbauen muss um besser an das Bordnetzsteuergerät rankommt)

Demontage der Verkleidungen unter dem Lenkrad:

Die seitliche Verkleidung vom Sicherungshalter ausbauen

Halteklammern mir einer Spitzzange zusammendrücken und entfernen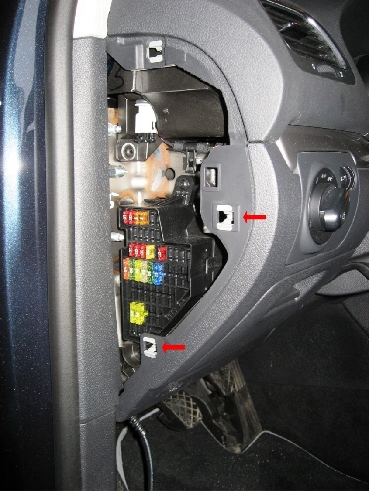 Lichtschalter ausbauen (Lichtschalter in 0-Stellung reindrücken und danach aufAbblendlicht drehen), Lichtschalter rausziehen, Stecker abziehen

Torxschraube lösen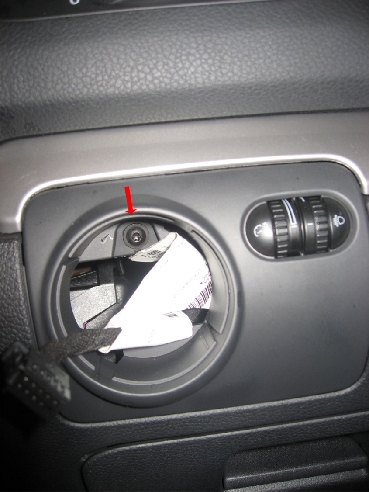 Danach Ablagefach unter den Lichtschalter öffnen und 3 Torxschrauben lösen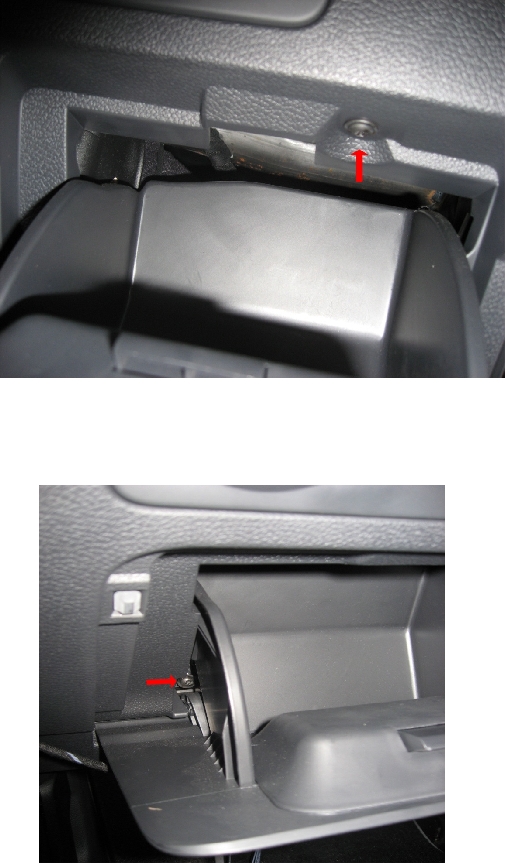 Torxschrauben rechts und links

Danach Dekor leiste über den Lichtschalter abbauen

Torxschraube lösen (entweder Tachoausbauen oder sich ein passendes Werkzeug bauen)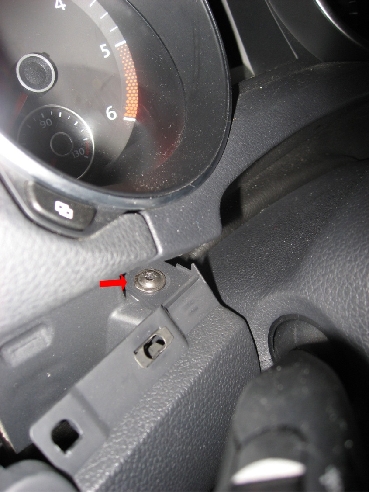 Danach kann man die linke Verkleidung abbauen


Demontage der Dachhimmel Lampe:

Mit Plastickkeil die Abdeckung der Lampe aushebeln

Danach 2 Torxschrauben lösen

Die Lampe nach unten abziehen und von Stecker trennen
Demontage der A-Säule Verkleidung :

Mit den Plastickkeil oder einen feinen Schlitzschraubendreher vorsichtig das Airbag-Logo aushebeln

Danach die Torxschraube lösen und die Verkleidung nach oben abziehen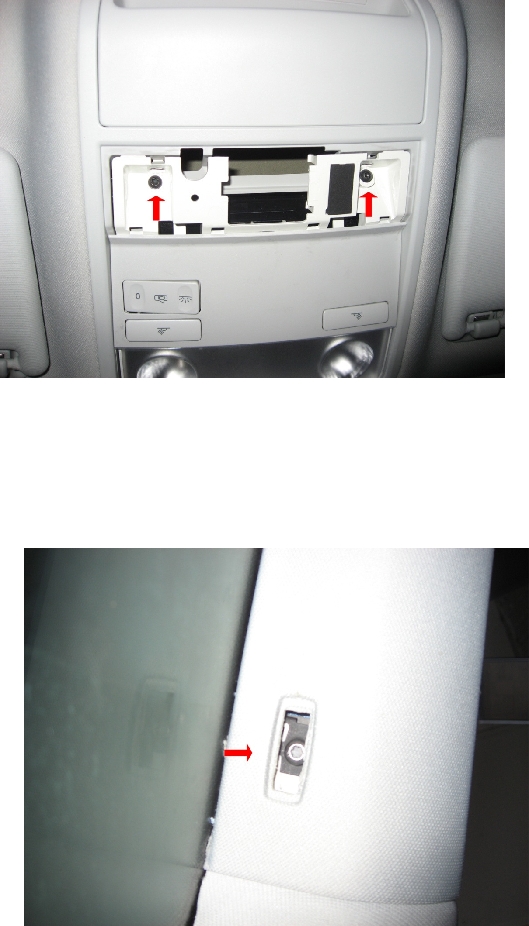 Montage des Spiegels und Verlegung des Kabelbaums :

Regensensor in den Halter der Scheibe einlegen und leicht andrücken (hält von alleine muss nicht gekleibt werden)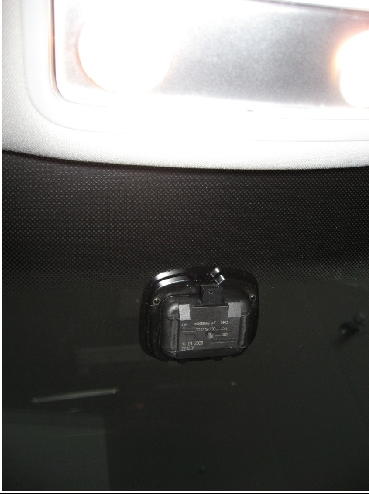 Innenspeigel mechanisch montieren

Kabelbaum unter den Dachhimmel in Richtung der Innenlampe durchführen

Stecker der Innenlampe entriegeln (mit feinen Schraubendreher die Nase nach oben drücken und Verriegelungskappe in Schiebrichtung abziehen )

Danach die Kurze Leitung in die Stecker Kammer Pin 6 stecken und wieder Verriegeln

Kabelbaum weiter an der A-Säule lang führen und mit ein paar Kabelbindern fixieren

Danach den Sicherungshalterblock abschrauben (2 Torxschrauben)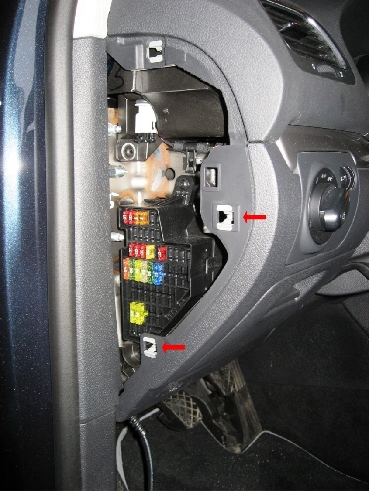 Danach die hintere Abdeckkappe des Sicherungshalters öffnen

Then open the back cover of the fuse holder




2 freie Sicherungsplätze suchen (Zündung z.B. SC4 und Dauerplus SC13 , vorher mit Multimeter prüfen)

Danach große rosa Verriegelung entriegeln und jetzt können die Pins rein gesteckt werden

Then unlock the big pink pins and install there pin


Zum Schluss muss man noch 2 Leitungen an das Bordnetzsteuergerät anschließen (Rückfahrsignal und Linbus)

Finally, two lines must be soldered to the electrical system control unit (reversing signal and LINBUS)




Das Bordnetzsteuergerät befindet sich über den Pedalen hinter den Knieairbag

The onboard power supply control unit is located above the pedals behind the knee airbag




Stecker B und Stecker C müssen gelöst werden (mit Daumen die Verriegelung auf den Bild drücken und den weißen Bügel nach oben ziehen)

Connector B and C must be disconected ( press the lock and remove - look on the image )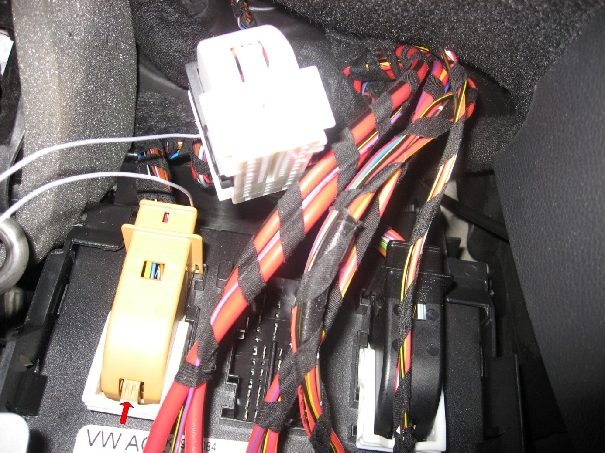 Am Stecker C (braun) muss man das Rückfahrsignal

( Gelb )

anlöten an Pin 28
In connector C (brown) Reverse Signal 

( Blue )

must be soldered to Pin 28

Am Stecker B (weiss) muss die Leitung für Lin Bus

( Blau )

mit angelötet werden an Pin 33
In connector B (white) Lin Bus

( Blue )

must be soldered to Pin 33

The assembly is then Analogously, in reverse order!
Der Zusammenbau erfolgt dann Sinngemäß in umgekehrter Reihenfolge!!!
3 PIN


pin 1 - Rot -  Dauerplus SC13


PIN 2 - Schwarz - Masse


pin 3 - Blau - Stecker B pin 33



6PIN


1- Grun - Zundung plus z.B SC4


2- Schwarz - Masse


3- Gelb Ruckfahrsignal Stecker C pin 28


6- Grau


3 PIN


PIN 1 - RED continuous +12V SC13


PIN 2 - BLACK - GND


pin 3 - BLUE - Connector B pin 33



6PIN


1 - GREEN - ignition plus e.g. SC4


2 - BLACK - GND


3 - YELLOW  Reverse signal - Connector C pin 28


6 - GREY

Codierung: auf Anfrage, Email an: info@carsystems.pl
Adresse 09:
Byte 21 - Bit 5 (Regensensor)
 
Byte 12 - Bit 0
(CH mit Fahrertür auf)
 
Byte 17 - Bit 3
(CH mit NSW)
 
Byte 17 - Bit 5
(Coming Home CH)
 
Byte 17 - Bit 6
(Leaving Home LH)